River Related Attractions
If you're looking to explore some of the other great things to do near the river, be sure to check out some of the fun, family-friendly attractions nearby. From scenic train rides to lumberjack shows, historical museums to canoe museums, you're sure to find some fun places to visit along the Namekagon River.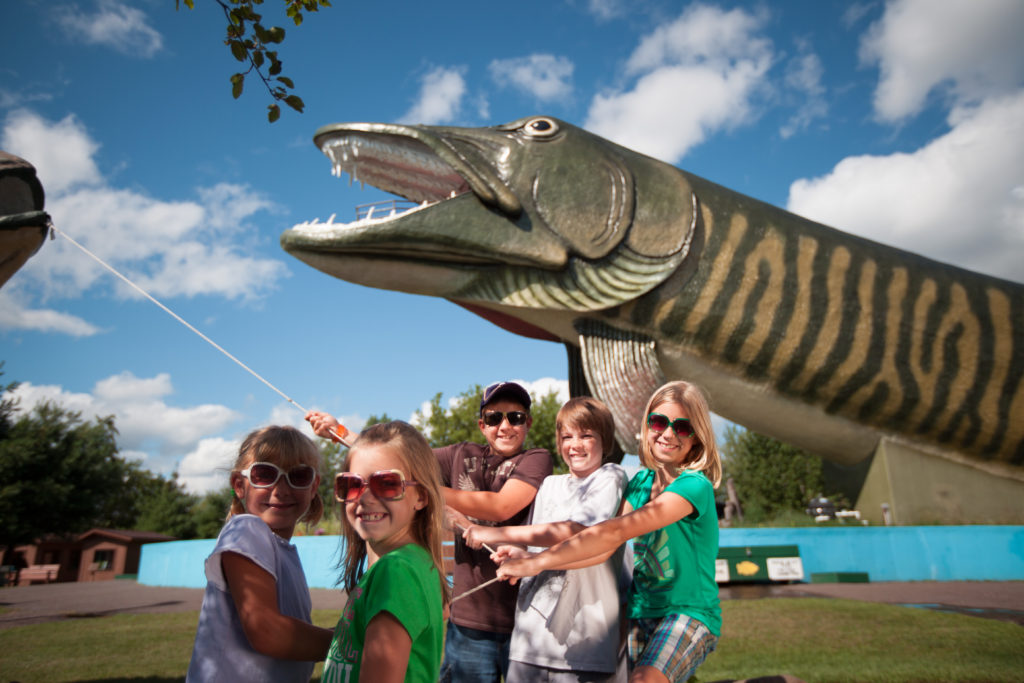 Namekagon River Visitor Center
W5483 Hwy 63 | Trego, WI 54888
715-635-8346 | Namekagon Visitor Center
The Namekagon Visitor Center is operated by the National Park Service. The center features new exhibits including a life size replica sturgeon, interactive and hands on exhibits, and a diorama featuring animals along the Namekagon. A park ranger is available to answer any questions you may have regarding the Namekagon River.
13470 Cty Hwy M | Cable, WI 54821
715-798-3890 | cablemuseum.org
Offering many exciting programs for children, adults and families. Hikes, crafts, games, river and forest explorations, naturalist-guided canoe and kayak trips, bird watching, engaging lectures, and live raptor programs are just a few of the educational experiences we provide.
N6639 Dilly Lake Rd. | Trego, WI 54888
715-635-3200 | spoonertrainride.com
All aboard! Enjoy a scenic train ride along the Namekagon River, part of the St. Croix National Park System. Tour a 15-mile stretch of the old Chicago & Northwestern track between Spooner and Springbrook, laid more than 100 years ago.  Many train rides are available including Sightseeing, Family Pizza, Elegant Dinner, and America's only moving Bed & Breakfast train. 
Wisconsin Canoe Heritage Museum
312 N. Front Street | Spooner, WI 54801
715-635-2479 | Canoe Museum Website
The Wisconsin Canoe Heritage Museum is home to a variety of antique and historic canoes. The continuously changing displays bring canoe enthusiasts from all over the world to enjoy the displays each year. This eclectic assemblage of boats is exciting in its diversity and includes significant craft from the golden age of North American canoeing as well as work by important contemporary builders.
Fresh Water Fishing Hall of Fame
10360 Hall of Fame Dr. | Hayward, WI 54843
715-634-4440 | www.freshwater-fishing.org
The Fresh Water Fishing Hall of Fame is the international headquarters for education, recognition and promotion of fresh water sportfishing.  Our mission is to develop and maintain the Fresh Water Fishing Hall of Fame and its museum for the preservation and display of historical artifacts of fresh water sportfishing.
15642 County Hwy B | Hayward, WI 54843
715-634-6923 | scheerslumberjackshow.com
Steeped in the logging history of Wisconsin's north woods, Fred Scheers Lumberjack Shows are a blend of sport, history and comedy. Great entertainment for all ages, the shows thrill audiences with ten exciting events as seen on ESPN's Great Outdoor Games. Watch world champion competitors battle it out in the Olympics of the forest. Comedy routines keep everyone laughing throughout the fast paced show and every performance includes a special Yo-Ho contest for the kids.
15278 W State Road 77 | Hayward, WI 54843
715-634-2695 | Riverside Lanes Website
This family fun bowling center is sure to be just what you're looking when it comes to a rainy day (or even a sun-shiny day). There are 8 lanes to accommodate bowlers and a game room filled with arcade games. Food and a full bar are also available.
Forts Folle Avoine Historical Park
8500 County Road U | Danbury, WI 54830
Burnett County is home to a truly unique historical attraction in Forts Folle Avoine Historical Park. This 80-acre park is the site of two early 1800s fur trading posts which had sat undisturbed for over 160 years before being discovered in 1969. Visitors to the park will enjoy tours of the historical site and the Woodland Indian Village. While there, plan to visit the logging museum, the one-room schoolhouse, blacksmith shop, nature trails and the park's visitor center.
Namekagon Barrens Wildlife Area
St. Croix Trl/Gomulak Fire Ln | Minong, WI 54859
The Namekagon River flows between two sections of the Namekagon Barrens - a 6,438 acre property located in the far northern portions of Burnett and Washburn Counties. The pine/oak barren habitat is globally rare and is home to many elusive wildlife species, making it the perfect stop for biding and wildlife watching enthusiasts. The area is just one mile from the St. Croix River.