Enjoying the Namekagon River During the Colder Months
Make the Most of This Upcoming Winter
Whether it is your first winter or thirtieth here in Wisconsin, the first frost of the year and those well-known winter winds can be a little intimidating. That being said, there are some pretty incredible things you can only enjoy this time of year that we think will leave you feeling warm (even if it is only on the inside). The best way to take on the colder months in Wisconsin is by finding an outdoor hobby (yes, we did say outdoor) that will warm your soul. Below are a couple of our favorites that you can do right along the Namekagon River. 
TRY YOUR HAND AT WINTER FISHING
Winter fishing in Wisconsin is something locals and visitors alike can't stop raving about. The weather may be chilly but the fishing is grand. Whether you're out on a frozen lake with an ice shack dropped down or in your waders knee-deep in the Namekagon River – there's a little something for everyone when it comes to fishing the winter waters of Wisconsin.
Now, if you do choose to venture out in waders for some fly fishing for early trout you're going to want to go on days that are warmer than 32 degrees. Anything below 32 will just lead to frustration and headache due to your line freezing and ice forming on the guides of your rod. That said, don't be afraid to contact a professional for guide services. Hayward's Fly Fishing Service is a great resource for tips and tricks to fishing the Namekagon and other local rivers. They even host winter fly fishing classes and events so be sure to check their website and social media for a schedule of events.
Always be sure to check the current fishing conditions before venturing out onto/into surrounding lakes and rivers! These conditions can change on a daily basis and lakes can never be considered 100% safe. Dress appropriately, stay hydrated and listen to your body.
GET THE BLOOD PUMPING BY HITTING THE TRAILS
There's nothing quite like being surrounded by towering Wisconsin pines covered in fresh snow. Even the coldest of participants can enjoy the scenic views you'll find along the trails of the Namekagon (just be sure to dress accordingly!). A great place to start is the Trego Nature Trail – an easy hike that is known for its phenomenal winter wildlife: such as snowshoe hares, muskrats, and foxes. The trail is also the perfect place to try your hand at tree and bird identification. More information about hiking and snowshoeing the Namekagon River can be found here. Download a printable version of the wildlife checklist here and don't forget your birding checklist!
GIVE TENT CAMPING A SHOT
Feeling brave? Love to camp during the summer? Maybe, you are actually a fan of colder weather? Call us crazy, but tent camping in a Wisconsin winter IS possible and, if you said 'yes' to all of the above questions, sounds like something you might enjoy! Plus, you don't have to worry about bugs or crowds! Pitch a tent along the Namekagon this winter but be sure you come prepared. You'll want to dress in layers and pack extra gloves/mittens, winter socks, and boots. If you dress for the occasion you will surely have the time of your life. If you've never been camping in the winter before you are going to want to read this blog from REI to make sure you are safe as you adventure out into the snow.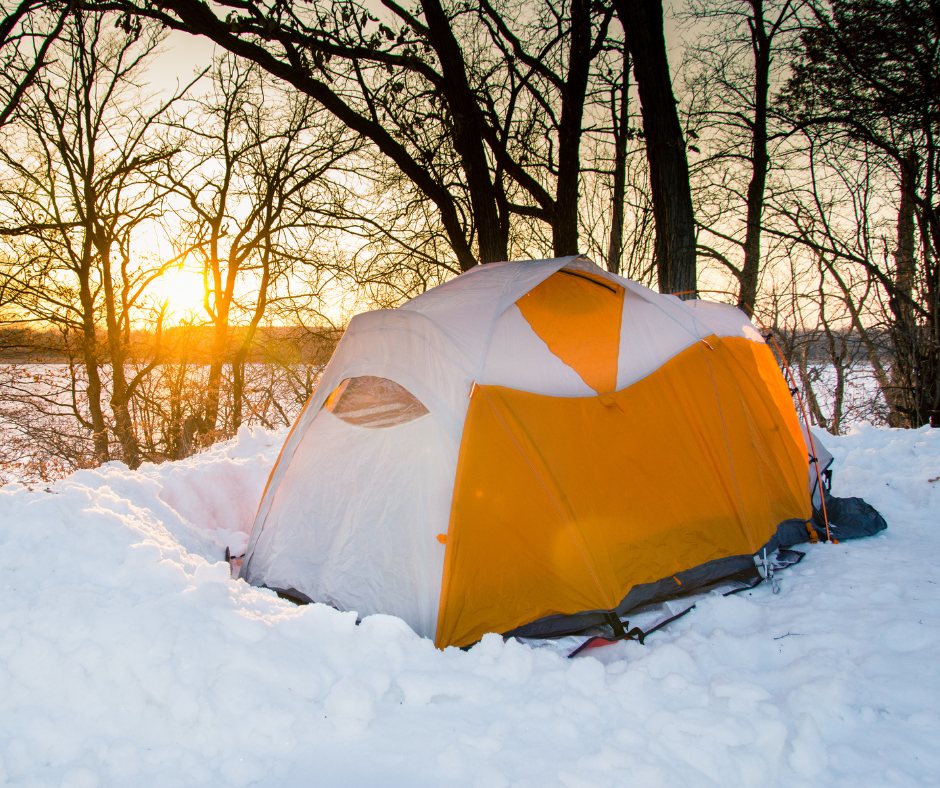 SIP SOME HOT CHOCOLATE AT A LOCAL WINTER FESTIVAL
Ready to warm up and get back to civilization? Northwest Wisconsin has plenty of winter festivals to partake in! Check out some of the festivals happening near the Namekagon River below. Sip some hot chocolate, shop for Christmas goodies, and make memories that will last a lifetime at one (or all) of the following events!
Spooner's Ladies Night Out | November 21st
Christmas in Hayward Kick Off | November 25
Santa's Pizza Train | Every Weekend from November 4 – December 18
Birchwood's Christmas Fest | December 3
Christmas Bird Count at Hunt Hill | December 18