Fall is Calling: Small Towns to Visit Along the Namekagon River
It's no secret that fall in the Namekagon River area of Wisconsin is a sight you can't miss. The bright fall colors, the crisp air and the buzz of a new season make Wisconsin's Moving National Park a must-visit this time of year. Peppered alongside the Namekagon River are small-towns full of Wisconsin charm. Each of them unique with something special to offer; they are all definitely worth adding a stop during your fall color drive.
HAYWARD, WISCONSIN

Hayward is known for its giant musky overlooking the downtown area. Included in that downtown area are some great eats and shopping. If you are just passing through on your way to other just as scenic destinations, be sure to pick up some information from the Visitor's Center on your way through. Hayward is one destination you don't want to miss.


Hayward is also known for its very active and thriving outdoor recreation community. Close to town is a trail system located by Hayward Area Memorial Hospital. If you want a quick and easily accessible hike without having to stray too far from town, this trail is ideal.
If you are just looking to drive around and look at fall colors, Hayward Lakes has some great itineraries for fall color tours in the Hayward area. Ranging from 40 – 75 miles and taking you all over Sawyer County and beyond, these fall color tours are a great way to explore small towns with big fall colors.
SPOONER, WISCONSIN
Spooner has a rich history in the railroad and as you explore the town, you can see spots where that history still shines through, including its Railroad Memories Museum. As you stroll through downtown Spooner, not only do you get to take in the sights of fall, but there are a variety of boutiques and restaurants that you'll want to come back to again.


If you are looking for some fall color hikes in the Spooner area, be sure to check out the Trego Nature Trail that runs parallel to the Namekagon River. Split the best of both worlds – the sights and sounds of the Namekagon River and the vibrant colors of the trail around you. Washburn County Tourism also has a detailed map for fall color drives to help guide you around the Spooner area.
GRANTSBURG, WISCONSIN
At the end of the Namekagon River flowing into the mighty St. Croix River is Grantsburg and just north of Grantsburg is Crex Meadows. Crex Meadows offers sprawling fall color views over its 30,000 acres of protected wetlands. Visitors to Crex Meadows enjoy the trails, bird watching, hiking, archery and more.
Grantsburg is also home to a unique gem, Forts Folle Avoine Historical Park. As you make your fall color tour around northern Wisconsin, this is a beautiful place not only to see but to also learn some key history about the area.
CABLE, WISCONSIN
Cable, Wisconsin, also known as "Trail Town USA", is the perfect setting for autumn fun in Northwestern Wisconsin. There are endless adventures for both children and adults looking to explore and make memories in a scenic paradise. Experience the vibrant colors of fall at the Chequamegon National Forest by bike, hike or drive.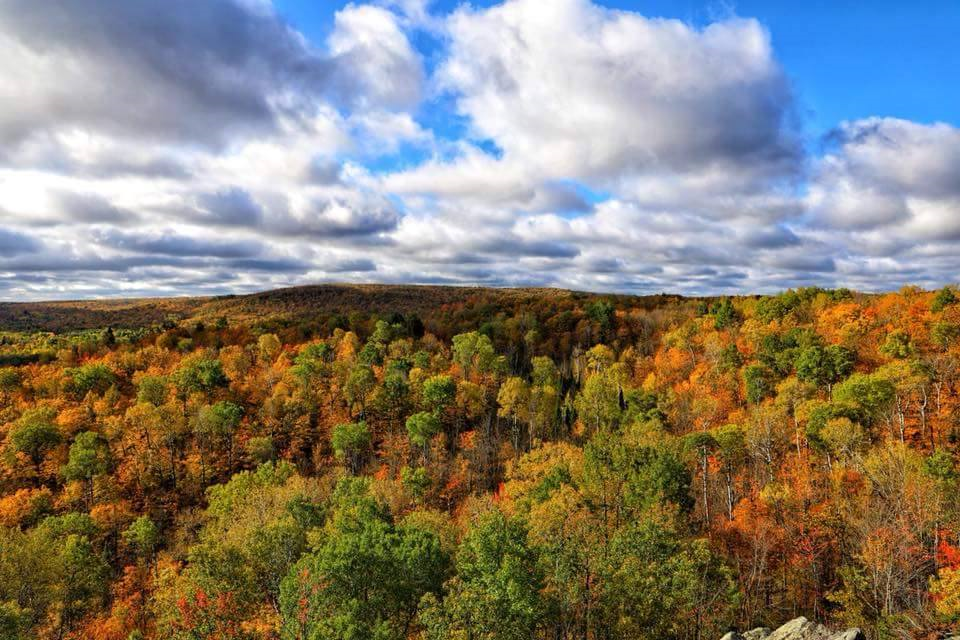 The small town brings in thousands during the famous American Birkebeiner – North America's largest cross-country ski marathon and is also known as the golf capital of Wisconsin. You won't run out of things to do or sites to see if you choose to visit this scenic and historic part of Wisconsin.
---
No matter where your fall color drives take you, you can't go wrong with following the small towns along the Namekagon River. Driving in and around the surrounding communities will not only allow you to experience the breathtaking visuals of fall in Northern Wisconsin, but you will also discover the hidden gems of small-town life.