Winter River Exploration – Snowshoeing, Winter Photography, & Trout Fishing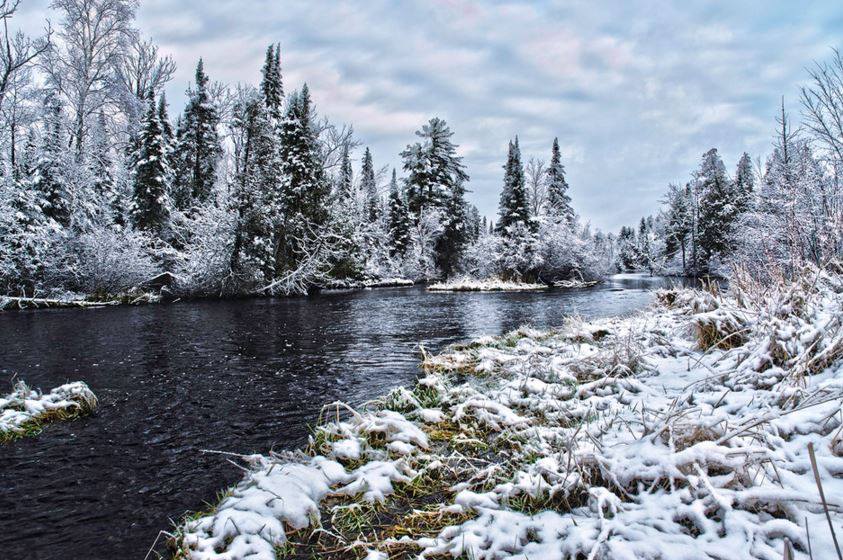 It's wintertime on the Namekagon which means there are ample opportunities to get outside and get exploring (just be sure to dress warm!). Winter in the Northwoods will be exactly what you make of it – it can either be dreadful for those that dislike the cold, OR it can be exciting and full of life for those that learn to embrace all that nature has to offer – even if that means adding on an extra layer or two.
Snowshoeing:
Feeling adventurous? It's time to strap on your snowshoes and hit the trail. The Namekagon has numerous trails that are perfect for hiking and snowshoeing. The Trego Nature Trail winds along the banks of the river making its scenery an ideal place to spend the afternoon. Not only will you get a good workout in, but you'll also have opportunities to catch glimpses of wildlife and scenic views as you adventure through the trail.
Download a copy of the trail maps HERE and then get to planning your next snowshoeing adventure.
Photography:
Looking for an activity that isn't quite as intense as snowshoeing? Photographers rejoice! Winter photography is one of the most magical things you can take part in – granting you the opportunity to physically look back at the memories made as you freeze moments in time. Try your hand at photographing the scenic river by snapping pictures of both wildlife and picture-perfect landscapes as you venture along the river. There is nothing quite like capturing the trees after a fresh snowfall or the rare and historic Rime ice that lingered for quite some time along the Namekagon.
Not sure where to start? Read HERE to learn more about photography on the Namekagon. If you're bringing a DSLR camera be sure to get familiar with your camera settings so you can seamlessly capture a sprinting fox or the ice hanging off a firmly standing tree.
We would love to see what great photos you have captured! Download the photo release form and send in your photos. You might even see them featured on the website or Namekagon River social media pages.
Trout Fishing:
Trout fishing on the Namekagon is either an incredible experience or an incredibly frustrating one – what makes the difference between the two all comes down to one thing. Timing. Winter trout fishing is one of the very best times to gather your supplies and then cast a line into the abundantly open waters of the Namekagon. Why? Because trout love cold water.
Anytime the weather is above 70 degrees the trout are too focused on surviving rather than eating. So winter/spring is great, summer not so much; however, it does pick back up again in the fall. The trick is to know exactly when and where to go. Hayward Fly Fishing Company and Langkamp's Guide Service are two great outfitters that offer guided fishing trips to help you learn how to navigate the waters of the Namekagon. Download your river map HERE. You can always visit the visitor's centers for more information as well:
The Hayward Lakes Visitor Center is open Monday – Friday from 9 am – 5 pm
The Washburn County Visitor Center is open Monday through Friday from 10 am to 3 pm.
Cable Area Chamber of Commerce is open Monday through Saturday 10 am – 4 pm.
---
However you choose to spend your winter, we hope you choose to spend it outdoors. The Northwoods is a captivating place full of excitement and life – regardless of the season. Once you learn to embrace the elements your eyes will be open to an entirely new world. Looking for further guidance? Give us a call! We would love to get in touch and help you plan the perfect day along the Namekagon River.