A History of the Namekagon 
A Celebration of Indigineous Peoples, Explorers and Tradesmen
Throughout the 99.5 miles of the Namekagon River flows a rich history of the Ojibwe tribe, explorers, loggers and fur traders. With every winding turn, time-honored traditions reveal themselves in the clusters of towering pine trees, the pockets of beaver dams, and diverse wildlife. Although mainly used for recreational purposes today, the Namekagon River's history is worthy of exploration, as well.
The Ojibwe tribe first settled in northern Wisconsin in the 1500s along the shores of Lake Superior. As they migrated out and into the region, the area surrounding the Namekagon River nourished a fruitful and sustainable way of life. Wildlife, fish, trees and plants were bountiful – lending all of the necessary resources for a thriving people. In fact, the name "Namekagon" comes from the Ojibwe word "Namekaagong-ziibi", which means "river at the place abundant with sturgeon".
Notable explorers like Jonathan Carver and Henry Schoolcraft wrote about their travels down the Namekagon during the age of exploration while the United States of America as we know it was newly forming. Jonathan Carver was an explorer during pre-revolutionary times who was contracted to discover a "Northwest Passage" which was thought to be a waterway straight to the Pacific Ocean. Henry Schoolcraft was an explorer hired by John C. Calhoun. Schoolcraft sought to explore the shores of Lake Huron, Lake Superior, the Mississippi River to Iowa and back. Additionally, French fur traders and loggers used the Namekagon river as a means of transportation downriver to the St. Croix.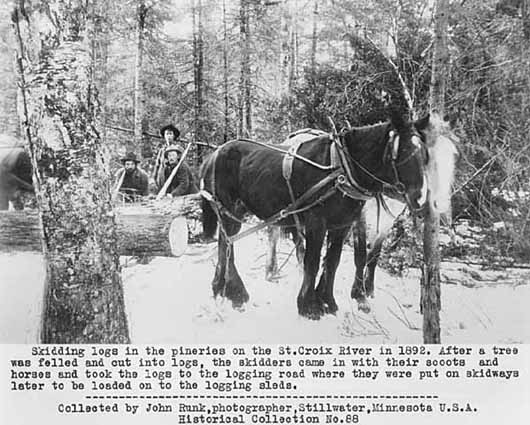 Near the Namekagon River Visitor Center in Trego once stood a historical marker that read:
"Here on the Great South Bend of the Namekagon was a natural camp-site, home of a band of Chippewa Indians and long used by explorers, missionaries, and fur traders traveling the Namekagon route between the St. Croix and Chippewa rivers."
Rich in history and rich in resources, the Namekagon River is much more than just a day of fun (although we can attest that the best memories are made on the Namekagon). It is a river that connected the first peoples, curious explorers, hard-working loggers and trappers. It boasts the rich resources of the Lake Superior region, to the St. Croix River, the Mississippi River and ultimately the rest of the country before the United States was ever formed. Next time you decide to take a ride down the Namekagon River, remember that you're also taking a ride through an incredible history.