12 Things to Pack For an Overnight Kayaking Adventure on the Namekagon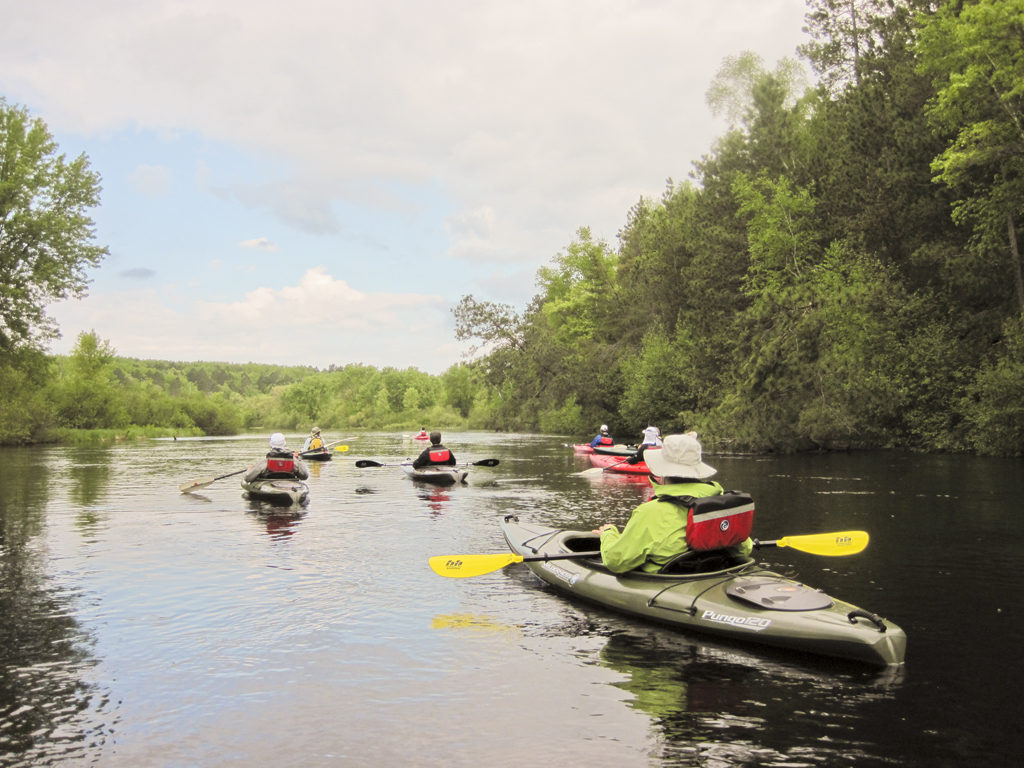 Kayaking the Namekagon
Whether you are preparing for your first overnight trip with your own kayak or are renting one from a local outfitter, it is important to be prepared when venturing down the Namekagon River. The beauty of the Namekagon is better explored when you pack simple but smart. Bring the essentials only and leave your valuables at home. 
To find a list of campsites along the Namekagon, start studying these maps to find the perfect spot to sleep under the stars. If you have any questions, contact the Namekagon River Visitor's Center at 715-635-8346.
Here are 12 things to bring when kayaking down the Namekagon River for an overnight trip:
1. Life Jacket 
Safety first even when you are having fun on the Namekagon River. There are life jackets specifically designed for ease of paddling when kayaking. They are lightweight, breathable and won't add any unnecessary bulk to your adventure. A quick internet search can help you find the right life jacket for your fit and lifestyle.
2. Bug Spray 
Mosquitos can be a real "buzz" kill on a trip down the Namekagon River. Trying to paddle, have a photo opportunity, or just soak in the season can be difficult when mosquitos and flies are just trying to say "hello!" in swarms. It can't be emphasized enough – never forget your bug spray!
3. Sunscreen 
A few hours down the Namekagon River with natural shade doesn't sound like a lot of time in the sun but it's important to treat it like a day at the beach. If you have clothing with UPF protection, wear that or pack it in your dry bag as a backup. Additionally, apply sunscreen 15 minutes before sun exposure and reapply every two hours.
More importantly than a higher SPF is that you apply it correctly. Most people don't apply enough sunscreen. For the average person, use at least an ounce and cover every inch of exposed skin.
4. Drybag/Waterproof Phone Case
Of course, kayaking down the Namekagon River is an escape from our busy lives, but that doesn't mean we can't bring our phone or camera to make memories on the trip (and when you do, be sure to tag us on social media: @namekagonriverwi!). You'll want a waterproof phone case in your dry bag to protect whichever one you choose to bring.
Dry bags are also great for storing your wallet, keys, lip balm and other items you want to protect from the water and elements. They are easy to find online or local outdoor outfitters!
5. Camera
The beauty of the Namekagon is best seen in person but we know how much fun it is to share your adventures with your friends and family! Pack a camera or a phone to snap those memorable shots of wildlife, nature and river life. But remember to keep them safe in your waterproof case and dry bag!
6. No-Cook Food/Water
It's important to keep light snacks and water on hand for your kayak trip. After all, paddling is a sport! Trail mix is light and filling – plus there are so many varieties that you can mix and match for whoever is in your kayaking party!

For an overnight trip, make-ahead items like sandwiches or pasta salad make for a filling dinner. Properly store them in a well-sealed container with ice and they will be ready to eat after a long day on the river!
Staying hydrated is even more important than snacks (even though we love a good nosh!). You can pack just regular water or for even more hydration, pack water with electrolytes. Just remember, no glass on the Namekagon River. It can be dangerous for wildlife and other fellow travelers.
7. Water Shoes
There are shallow spots down the Namekagon River where it's easy enough to get out of your kayak and explore the area. Wearing a pair of non-slip water shoes or sandals will help you walk around safely and with ease when taking a break from kayaking.
8. First Aid Kit 
Accidents happen and you want to be prepared for them so you can patch up and paddle on! Pack a first aid kit in your dry bag with band-aids, antibacterial wipes or cream, and hydrocortisone.
An additional emergency item to keep in your kit is a whistle. Just in case you or someone you come across needs help, a whistle will act as an alarm to those around you.
9. Quick Dry Towel 
A quick dry towel is light and compact – perfect to dry off as needed. Better than a regular towel, a quick dry towel does exactly what it says – dries quickly! This leaves more time in between usage so you, your things and your towel stay dry.
10. Tent
A lightweight tent can easily be packed and stored on your kayak. Make sure your tent is durable and waterproof – just in case a summer rain blows through!
11. Sleeping Bag 
A day on the river is made even better by a good night's sleep. Finding a comfortable sleeping bag can make a world of difference when you are camping overnight on the Namekagon River. The temperature is definitely known to drop into cooler temperatures at night so having a well-insulated sleeping bag will keep you rested and ready for the rest of your trip down the Namekagon River!
12. Your Own Sense of Adventure!
A trip down the Namekagon River is sure to have its fair share of ups and downs – especially if you are a beginning kayaker. It's natural to get turned around, tip over, or just plain get frustrated when you are getting used to kayaking. The adventure is worth it though. Buckle up your life jacket, secure your belongings and kayak down the Namekagon River for the time of your life!
The Namekagon River offers something for everyone – from beginners to seasoned veterans. Remember safety first, have fun and enjoy your time on Wisconsin's Moving National Park!