Sleep Under the Stars: Camping Along the Namekagon River
Summer is upon us and, if we're not careful, we might blink and miss it! That's why we wanted to take some time to encourage you to get outside and get to camping! The Namekagon River offers phenomenal camping experiences – regardless of what county you're visiting. All we're asking is that you take one weekend this summer to spend a night under the stars. Your family will thank you later.
If you're looking for a place to pitch a tent (or rent a cabin) in Bayfield County, you're in luck! There is so much to do in beautiful "Deep North" and numerous places to lay your head! From fishing on the Namekagon, to exploring the Chequamegon National Forest, to hiking, biking, and so much more; you'll be thankful to return to your campsite at the end of a long day.
If you are a tent camper (like me),be sure to check out the Namekagon Campground in Cable right at the headwaters of the Namekagon River. It is the perfect spot to kayak, canoe, jet ski, swim or take a boat ride to one of the many restaurants along the shoreline. Two Lakes Campground in Drummond is also a great option. These campsites are spacious and shaded by pine and mixed hardwoods, and most sites offer sweeping lake views. Additionally, Cable Campground is another great campsite is a small rustic campground in the Cable Rec Park. There are five walk-in, tent-only sites in the woods along the east edge of the Park near the playground. View all of Bayfield County's campsites, HERE.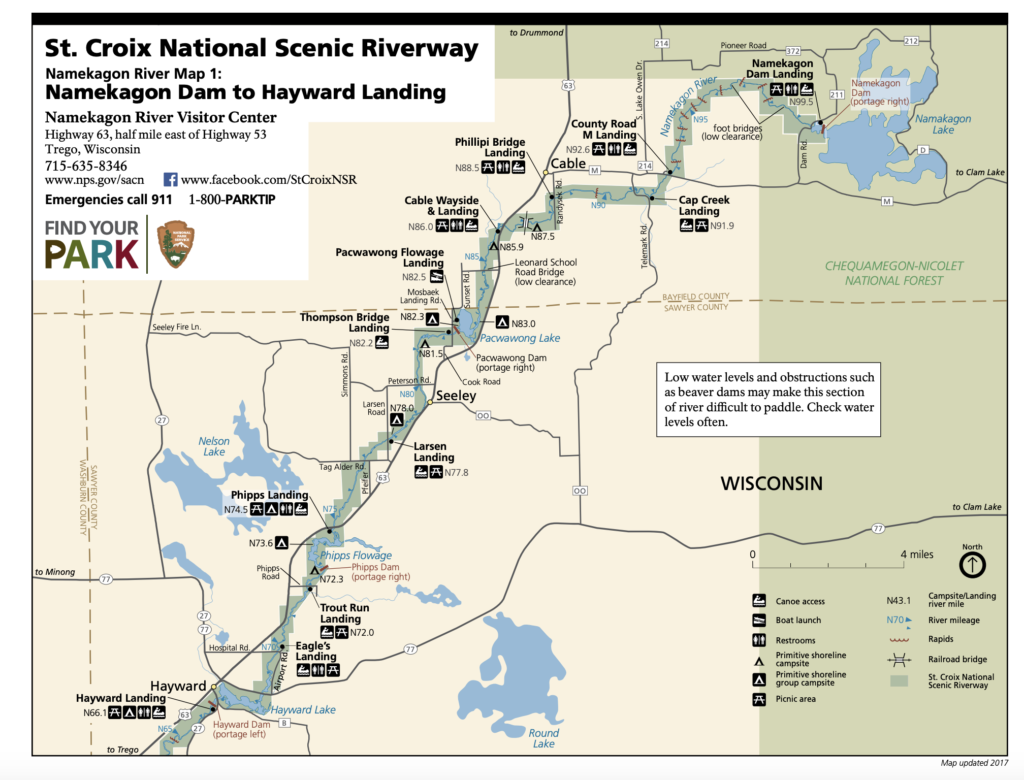 Saywer County boasts some great tent camping options right along the river. Farther north you have ROAM Adventure Basecamp featuring modern and imaginative trailside camping and outdoor sports venue located in Seeley, Wisconsin. Get away at the Hayward KOA – which is an award-winning, family-oriented, critically-acclaimed, activity-filled, exceptionally-located camping destination. Bringing the camper? Stay at River Road RV Park & Campground. Guess what? There are SO many more places to stay! Be sure to check out all of your Sawyer County campgrounds HERE.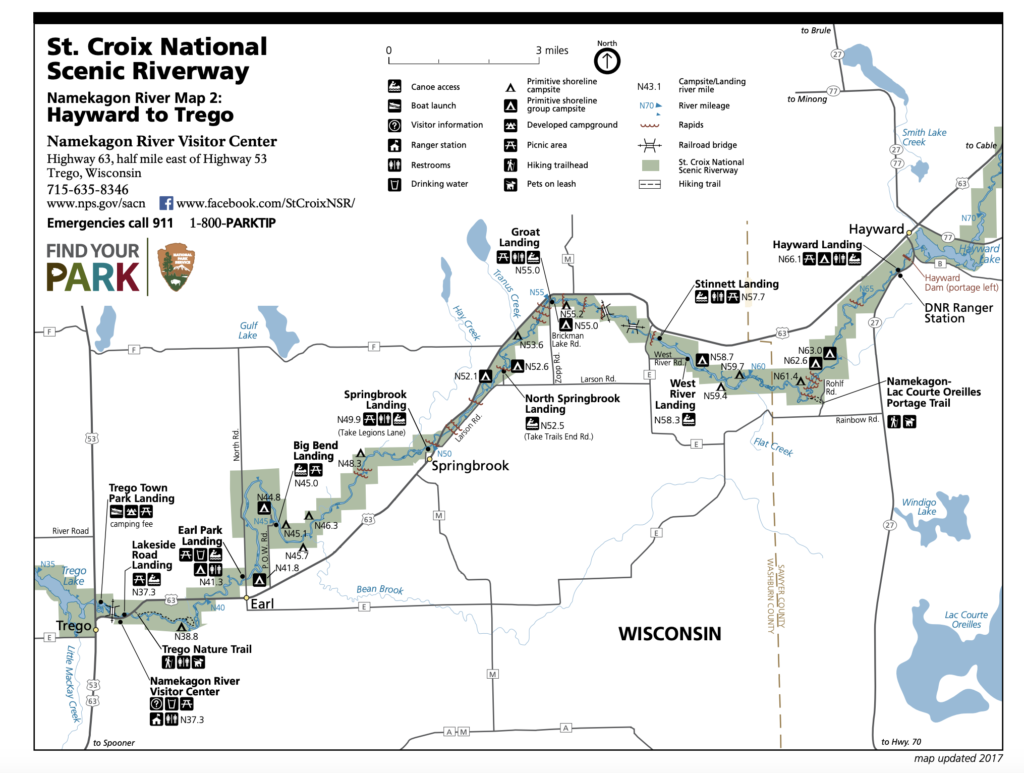 Traveling farther south, you'll find this portion of the Namekagon River is popular for kayakers, canoers and tubers. With nearly half of the river flowing through Washburn County, you'll find plenty of lodging options as well as outfitters to help you plan your river adventure.
The campsites along the river in Washburn County are calling your name! In addition to the National Park Service boat-in campsites, you'll want to check out Flatwaters Saloon & Campground, featuring spacious campsites at reasonable rates, a historic saloon, river tube rental trips, and so much more! A little further up river, you'll find Camp Namekagon offering both tent and RV campsites along with full outfitter services. Camp Namekagon RV Park & Campground in Hayward, WI offers quiet, clean, spacious campsites, modern bath facility with flush toilets and private showers, cabins for rent, and picnic areas. Trego Town Park is also a great camping option located just north of Trego off of Highway 53. With 50 campsites, showers, pavilion, toilets, swimming – you'll never get bored. Other camping options include Jack's Canoe Rental, Log Cabin Resort and if a yurt is what you're looking for, Namekagon Waters Retreat is the ideal getaway.
View more great Washburn County campsites and lodging options HERE. 
Burnett County is the home to the stretch of the Namekagon River just west of McDowell Bridge Landing to Riverside Landing. The 12.5 miles that flow through the county are some of the most wild and scenic, offering naturally breathtaking views as you navigate the few stretches of rapids to the east of Namekagon Trail Landing.
Eagles Landing Campground in Danbury, WI is the closest campground to the Namekagon River in the Burnett County area. Other great (and nearby) campsites would be Rosenthal's Resort and Wild River Outfitters. Rosenthal's offers 7 cabins and 85 campsites with electric, sewer and water. There is also a phenomenal restaurant and bar located on site. Wild River Outfitters has 14 overnight campsites with shuttle services and rentals for the river, as well!
---
Wherever you visit, we hope you find great joy as you explore the river! We ask that you treat it like your home and clean up after yourself when you pack up for the weekend. Welcome to the Northwoods. Now, get to planning!