Hitting the Trails on the Namekagon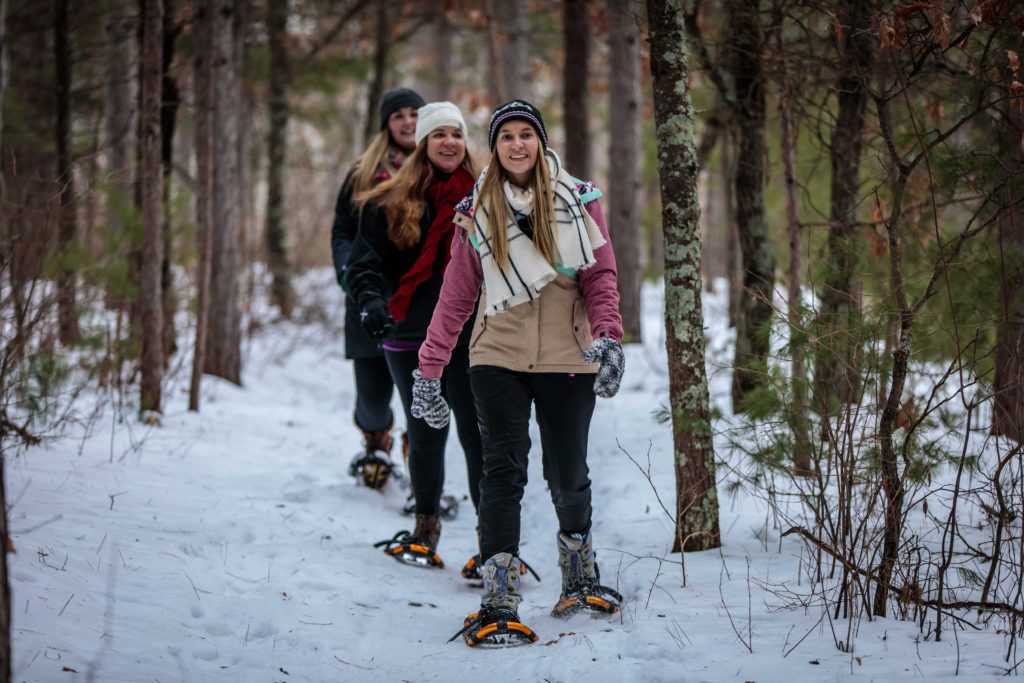 It's time to strap on the snowshoes, find your skis and hit the trails. The snow is here to stay and the trails are open and waiting for you to get out there and get exploring. Along the Namekagon River you'll find incredible scenery and numerous opportunities to experience nature – especially in the snowy winter months.

Snowshoeing and cross country skiing are two winter activities that are both fun and boast incredible health benefits. Snowshoeing is the perfect winter escape that requires minimal experience. You just have to be willing to locate a good-fitting pair of snowshoes and then find the right trail for you. Don't own a pair? No worries! There are outfitters lined up and down the river that are eager to help you find just what you need to have a great day spent on the trails.

Cross country skiing is another great winter sport that requires just a little more skill, but is an amazing opportunity to burn far more calories than snowshoeing. It really gets you moving so that you can cover more trails in less time. Dress appropriately! If you're new to this sport be prepared to sweat and fall. Wear water-resistant layers that allows room to breathe. The last thing you want to do is be on the trail cold and wet. Grab a trail map and then get to skiing!

Get started on one of these three Namekagon-friendly trails:
Trego Nature Trail offers an impressive 3.5 mile trail system that will keep you entertained for hours. The winding trail will take you right alongside the river and open your eyes to miles of scenic riverway (off Highway 53 and Highway 63). The trails are great for skiers of all skill levels.

Located just 2 miles west of Highway 53 on River Road lives the 3.5 mile long Trego Lake Trail. This trail is easier than the Trego Nature Trail and is maintained by National Park Service all year long. This is a great trail for beginners looking to dabble in the art of silent winter sports.

Heartwood Resort & Conference Center Trails offer 700 acres of impressive views and beautiful trails. The best part? After a long day spent on the trails, you can settle down in your room or cottage for an evening of relaxation and peace.

So get out there and get exploring! There are endless opportunities for adventure as long as you're willing to get out in the cold and embrace this beautiful Wisconsin weather. Winter is more bearable if you have something to look forward to. Visit one of our local outfitters and give the trails a try.