Winter Fishing on the Namekagon River
Always be sure to check the current ice fishing conditions before venturing out onto surrounding lakes! These conditions can change on a daily basis and lakes can never be considered 100% safe. Dress appropriately, stay hydrated and listen when your body is trying to tell you something.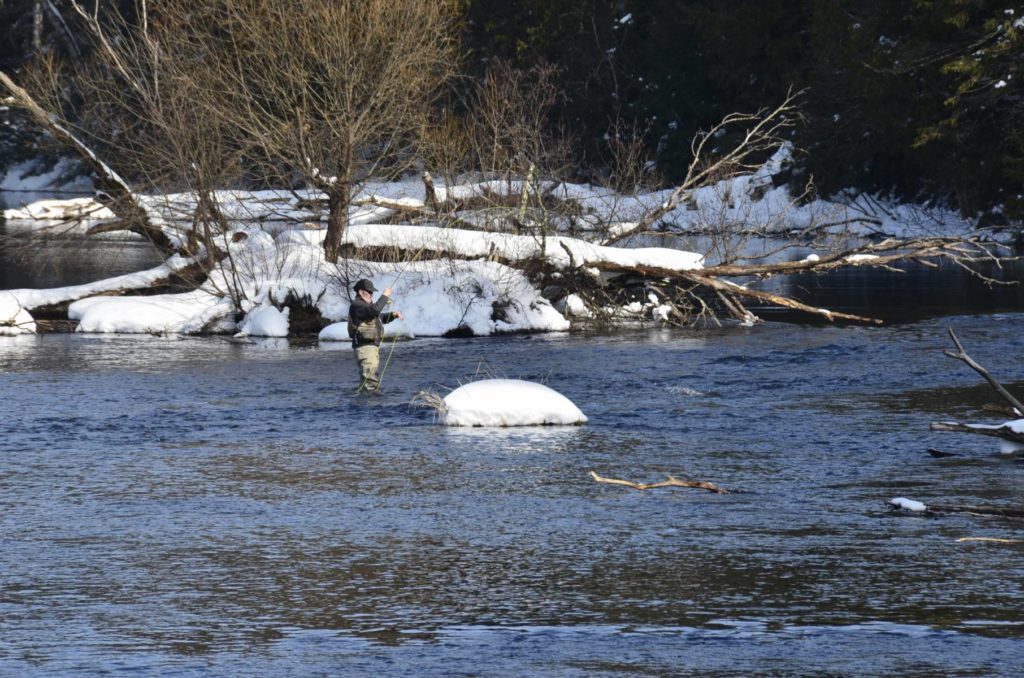 It may be a tad bit chilly outside, but don't let that stop you from throwing on your waders and jumping into the river for some phenomenal Wisconsin fly fishing. Early (catch and release) trout season is officially open on the Namekagon – which means that now is the perfect time to venture into the river.
However, fishing on the Namekagon in the winter is quite different than the warmer months due to the fact that the fish aren't nearly as active. If you want to catch a "big one" you're going to have to put in the work to get them biting. Trout in particular are actually considered cold-blooded and their temperatures change to reflect the waters they are in. As the waters warm up, their metabolism start to speed up. This makes the fish hungrier and more aggressive (A.K.A., easier to snag a bite).
During the winter, their metabolism slows down as their body temperatures drop. So they will require less food which, in turn, means you will have to fight a little harder to get that hard-earned bite.
Local fishing expert Larry Mann from Hayward's Fly Fishing Company gave us a couple pieces of solid pieces of advice when asked what some of his tips and tricks are:
"If you're going to brave the cold, be sure to go on the days that are above 32 degrees. Anything less than that and then you'll be dealing with your line freezing and ice forming in the guides of your rod."

Larry Mann
He also suggested that you choose some kind of imitation nymph when you go to pick out your flies. The outfitter located in Hayward, Wisconsin has a wide variety of both coldwater and warmwater flies to choose from.
"You'll want to fish the bottom of the river if you want to catch anything. The fish aren't going to be up toward the top for another couple months."

Larry Mann
The upper reaches of the Namekagon offer world class fishing for trophy brown trout. Fishery surveys by DNR crews in 2018 found some of the strongest numbers of brown trout in the last decade, with fish topping out in the 20-inch range.
Early Trout Season. – The early inland trout season on selected waters [PDF] runs from 5 a.m. on the first Saturday in January (January 4, 2020) through the Friday preceding the first Saturday in May (May 1, 2020). Guide to Wisconsin Trout Fishing Regulations, 2020-2021 [PDF] https://dnr.wi.gov/topic/fishing/regulations/index.html
Interested in ice fishing near the surrounding lakes in the area? Lake Namekagon is the headwaters of the Namekagon River which is where some of the best Wisconsin ice fishing takes place. For more information, be sure to tune in at the Bayfield County Wild Podcast. In Mary Motiff's February podcast, she will be discussing everything ice, including the Ice Caves and Ice Fishing.