11 Tips to Stay Safe on The Namekagon River: Wisconsin's Moving National Park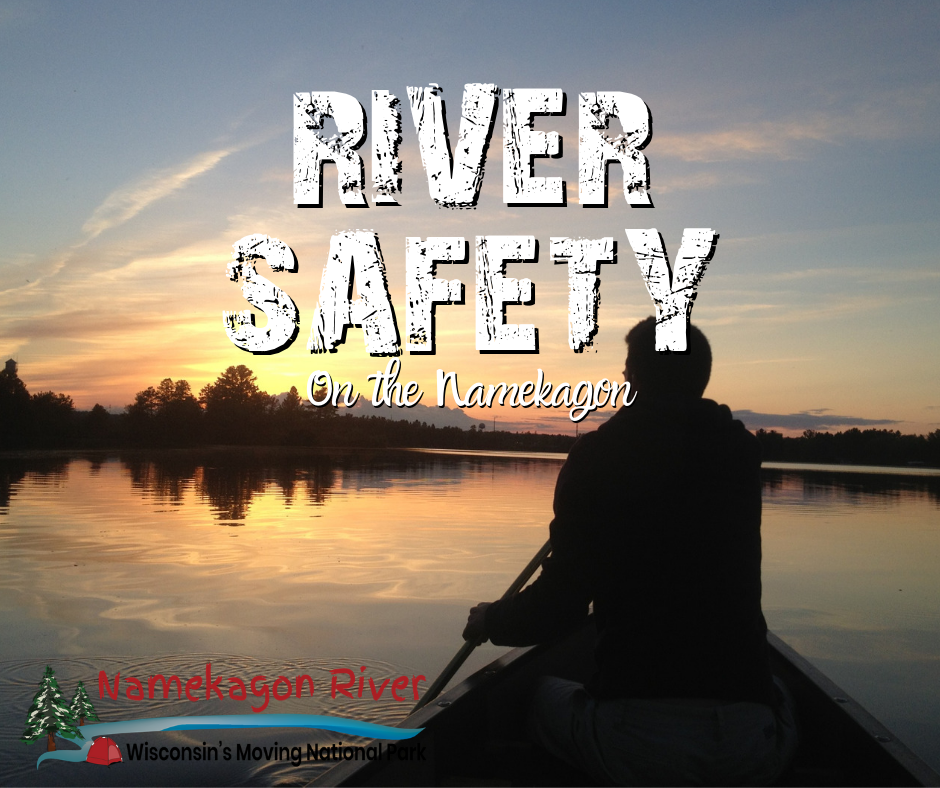 Summer is one of the most exciting times of the year! There is so much to do and so little time… Which is why it comes to no surprise that people love to spend the hottest summer days out on the river. The Namekagon River can be an incredible experience for you and your loved ones, but you do need to realize the power that the river has. According to the CDC, drowning is the fifth leading cause of unintentional injury and death in the U.S; and it claims an average of 10 lives per day in the US. This silent killer can be avoided as long as you follow these 11 helpful tips while spending the day out on the Namekagon River!
TIPS & TRICKS
1) Make sure someone knows where you're going to be. Before you depart, let loved ones know exactly where you're leaving from and where your final destination is, along with an estimated amount of time that you'll be gone.
2) If possible, bring some kind of communication device with you (cell phone, walkie talkie, carrier pigeon, SOMETHING). This isn't so you can scroll through social media the entire time you're out enjoying nature. The purpose is for it to serve as a device to utilize in case of an emergency. The last place you want to be is on the river, having an emergency, with no way to get the help you need. They make these waterproof cases for your phones and other belongings that have definitely come in handy.
3) Wear your life jacket or some other type of Personal Floatation Device (PFD). Whether you're an experienced swimmer or one who can barely hold your head above water, everyone can benefit from wearing their PFD. Wearing one will help you in the moments you need it most, whether you're conscious or unconscious.
4) Know your limits! It is totally OKAY to be considered just an "okay" swimmer. The important thing is that you know your limits. Even the strongest of swimmers tend to tire out after spending hours in the sun. Take breaks in the shade as needed and pay attention to your surroundings. Drowning can happen in a matter of seconds and it is often a silent killer. Keep an eye on yourself and your friends to make sure everyone is staying safe and feeling good.
5) Beware of strong currents and undercurrents. Whether you're a newborn baby or Michael Phelps (in terms of swimming), undercurrents can seemingly come out of nowhere which is why it is crucial for you to always wear your PFD. If you happen to get caught in a current, experts suggest going down it on your back with your feet pointed downstream and your head upstream until you have the opportunity to break free and swim to shore.
6) Stay hydrated. Seriously. Dehydration on the river may sound silly but it is something that happens often! Bring a water bottle or two with you so you can quench your thirst throughout your trip. The more dehydrated you are, the weaker you become; and if you're already feeling thirsty then you're already starting to become dehydrated.
I actually have a rather scary experience from kayaking that I wanted to share! My friends and I were kayaking a couple years ago (on a HOT summer day), and we thought that the waters we had packed were in one of the kayaks. It turned out that they were back in the truck parked 3 miles upstream. We only had 7 miles to go! Surely, we would be fine! By mile 8 we were completely dehydrated, and at one point I went to get out of my kayak to cool down in the water for a little while when I realized that what I thought was shallow water was actually 12 feet deep! Now, I consider myself a strong swimmer, but I was EXHAUSTED and had the hardest time pulling myself back into my kayak. Luckily, I was able to muster up the strength to get back in and continue downstream, but by the time we reached our destination we looked like we had been lost at sea for days. We were incredibly grateful to the folks that saw us and came running to our rescue with bottles of water! It was a hard lesson to learn but it was something that I'll never forget.
7) Be prepared for extreme weather conditions. The weather can change in a matter of minutes. It can be sunny and 75 one minute; then windy, storming and 55 the next. Have an emergency kit packed in case you get stranded.
8) NEVER dive into unknown or shallow waters. There could be trees and/or other debris underwater that could cause serious injury.
9) Know your route. Have it planned out before your trip so you know just where you're going. The last thing you want to do is take a wrong turn and then be completely lost.
10) Never go alone! Bring a friend. It's much more fun the share the experience with a loved one, anyways! If you do happen to go alone make sure you follow steps 1-9. Have a plan and stick to it.
11) Learn lifesaving skills. Get CPR certified! You never know when you'll have to use them (even if it isn't on the river!). Hopefully you never have to use these skills, but it is better to be over-prepared and capable of saving a life rather than unequipped to handle an emergency situation.
For more tips and tricks visit https://namekagonriver.org/safety-regulations/ and https://www.nps.gov/sacn/planyourvisit/safety.htm.